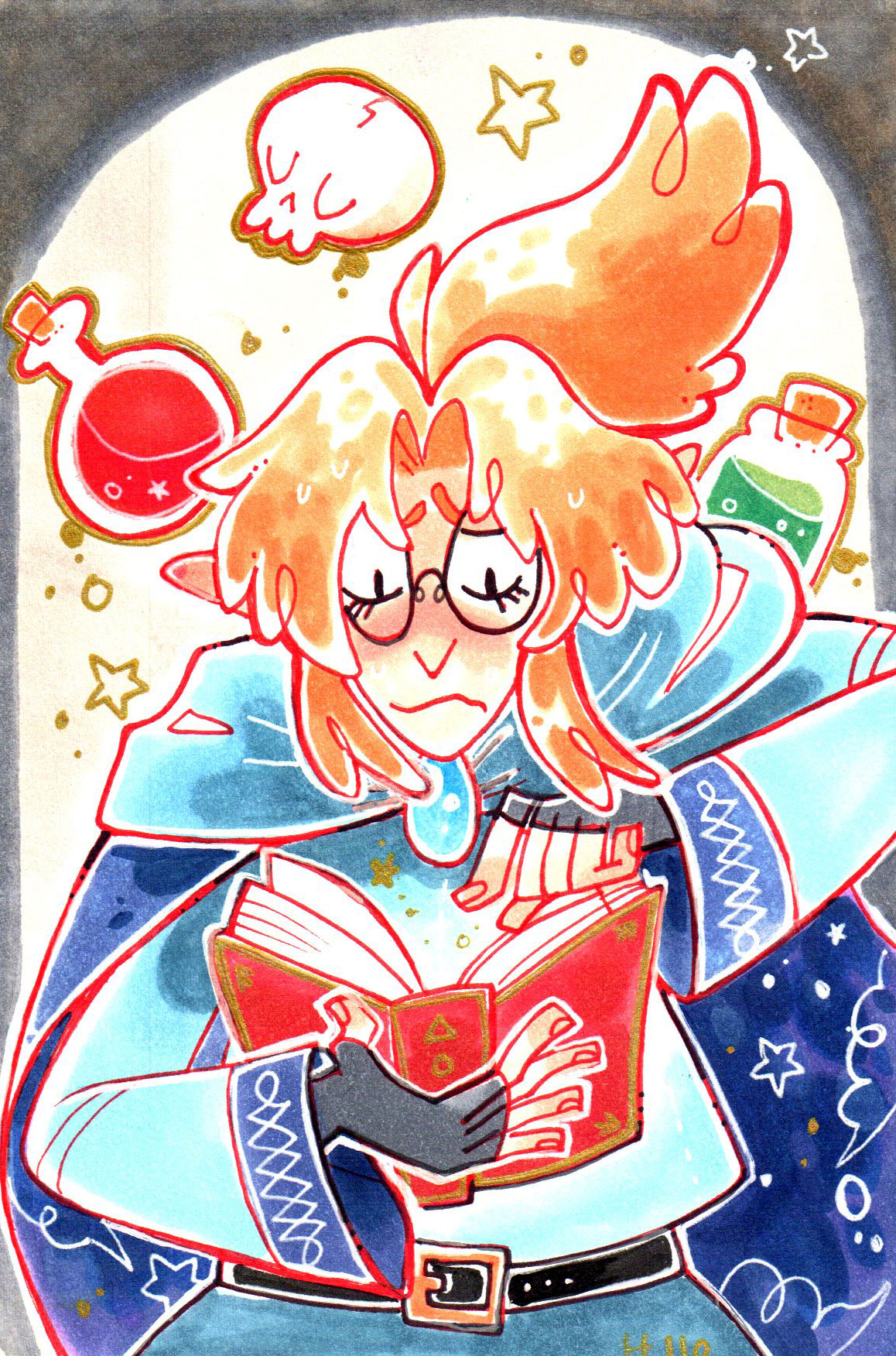 AGE | BIRTHDAY  45 – 232 | January 18 (Thesaurus Day)
IDENTITY  male | he/him | bisexual
BODY  6'1″ | forgets to eat
RACE  half-elf
CLASSES  cleric (knowledge) | wizard (artificer)
DEITIES  Boccob | Monty???
PROFESSIONS  Owner of Machault Occult
(magic item pawn shop)
First Administrator & Manager of Classified Creations
of His Mischievous Montgomery Modestly
ALIGNMENT  neutral good | true neutral
VOICE | FACE  David Hyde Pierce | N/A
ZODIAC | M-B  Capricorn/Aquarius cusp | INTP
APPEARS IN
QDND | FOUR | CROWNE
hs au rp • twitter rp
RESOURCES
CAMPAIGN HISTORY | REF SHEET
Havi was born with a stick up his ass, has always carried the general disposition of a crotchety old man, and has lost every physical contest with every child he's engaged with.
He's self-centered and cowardly, but extremely invested in magical studies. While these studies are generally for self-interest only, he does occasionally make grand discoveries new to the magical world.
Havi is a cleric, but he only became a cleric because his parents wanted him to. (they're both super talented clerics who run their own temple), and by the time Havi realized he wasn't super Into the whole thing, it was too late for a career change.
he's like that atheist kid whose parents are religious as hell so he still has to go to church & pretends like he gives a shit (EXCEPT it's D&D where gods ARE real, so he's just Generally Disinterested in the pantheon as a whole). WHICH IS ACTUALLY OKAY! because the god he eventually chose to worship is Boccob, who literally does not give a fuck if you worship him or not; just so long as you are pursuing knowledge of magic and acquisition of cool magical items.
he actually went 45 years without speaking directly to his god, which is definitely kind of weird for a cleric. he also has like, the bare minimum to worship him; a shitty altar hidden in a closet under the stairs that he mumbles at every once in awhile.
so Havi & Tanum moved out and decided to get their own place outside of central Litor. & they just … lived their lives for a while, doing small jobs for money, Tanum had a garden so they could feed themselves, etc. it was nice, quaint, and they had fun. it was as fun as the first year of living with your best friend could be.
eventually, after a few years of settling down, their little house in the middle of nowhere became a sort of hub for cool magic junk.
it started out as just a personal collection, but word started getting out within the magical community of things they had on-hand, services they could offer, etc. Havi was a cleric so could offer remedies & such, and eventually their item collection & library grew so large they started running an actual trading post / pawn shop.
people would come in and trade cool stuff for other cool stuff. they got to see a lot of really unique things and make a lot of other people happy and spread knowledge
(they also stole some of the items from people Havi believed didn't deserve them)
video game
cosplay
fanfic